Coronavirus updates: Bay Area health officer: Will be a 'very, very long time' before normalcy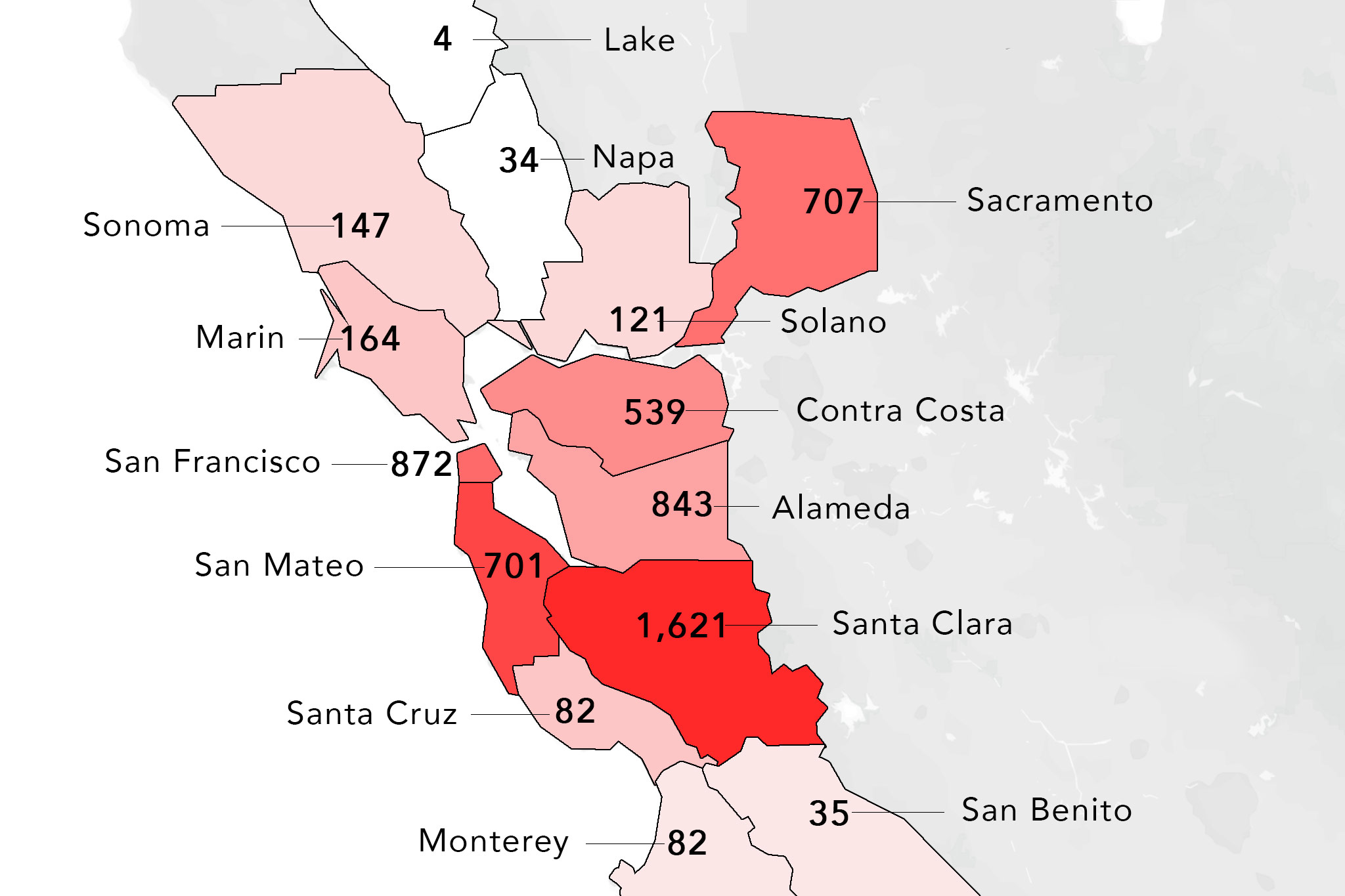 Photo: Andy Andersen / Blair Heagerty

LATEST, April 6, 8:15 p.m. Marin County reported two new cases of COVID-19 and two new deaths due the virus on Monday night.
The total number of cases is at 143, and the death toll is at nine.
April 6, 6:00 p.m. During a Monday interview with KGO, Santa Clara County Public Health Director Dr. Sara Cody stated it will be a "very, very long time" before life in the Bay Area returns to normal.
"We're going to be at this for a very, very long time," she told KGO. "I just have to keep reminding myself that this is a marathon and we have to keep ourselves nourished somehow, and we have to keep our energy good."
While she did not state whether she anticipated schools re-opening in the fall, she did say she's "trying to get [her] kids used to online learning."
In addition, she stated that everyone will "probably" be infected with the virus at some point.
"Yes, probably at some point," she said in response to a question about whether everyone will be infected. "What our shelter-in-place order does, though, is slow things down, so we spread the cases out over a long period of time, and so that we spread the number of people who are severely ill and require hospitalization over a long period of time as well."
April 6, 5:50 p.m. Solano County reported 15 new cases of the novel coronavirus Monday night.
The number of total cases now stands at 88, and the death toll remains at one.
April 6, 5:30 p.m. Santa Clara County reported three new deaths due to COVID-19 on Monday, bringing the county's total to 42.
No other Bay Area county has reported more than 13 deaths so far.
April 6, 4:10 p.m. California State Senator Scott Wiener (D – San Francisco) announced Monday he would be holding a virtual town hall on Wednesday evening at 7:30 p.m. PT to discuss the COVID-19 response and other topics.
The event will stream online at sd11.senate.ca.gov.
April 6, 4:00 p.m. In a White House press conference Monday, Admiral Brett Giroir said he would not say how many ventilators were currently in the federal stockpile, but noted he looks "at ventilator use at a granular level, every single day in every single state, down to the hospital level," adding that the federal government has been "easily" able to meet ventilator needs per state.
"No one who has not gotten a ventilator who needed a ventilator," he continued. "As far as we can project, by looking at all models, everyone who needs one will get a ventilator."
Trump then added that there are "about 9,000" ventilators in the federal stockpile.
April 6, 3:50 p.m. BART will decrease service beginning Wednesday, and begin running trains every 30 minutes on weekdays, the agency announced. Weekend service will not change.
"As the Bay Area counties have now extended mandatory shelter in place orders, BART service needs to be reduced to match demand, increase essential rebuilding projects, save costs, and maintain reliable service based on staffing levels," the announcement read. "Ridership data shows social distancing remains possible on all trains with this change. Effectively, every other train is being cancelled Monday-Friday. Reducing service also allows greater flexibility to maintain stable service should BART employees need to take time off due to illness or to care for children and family members. This move will potentially save the operating budget $3-7 million per month."
More information on BART's site.
April 6, 3:30 p.m. President Donald Trump said in a press conference Monday that Apple and Salesforce — two Bay Area companies — were producing protective equipment like face masks and shields for medical workers.
Additionally, 3M will be producing 55.5 million face masks per month for the next three months and distributing them to healthcare workers, Trump announced.
April 6, 2:45 p.m. San Francisco officials announced Monday a decision to move unsheltered individuals into hotel rooms rather than Moscone West, reversing course on a previous plan.
Initially, Moscone West had been made into a shelter in an effort to thin out existing homeless shelters. However, those shelter guests who are over 60 or otherwise immuno-compromised will now be moved into hotel rooms. That change means the city is now seeking a total of 4,500 rooms — 1,000 more than initially planned.
Homeless individuals who do not have the virus or who have completed their quarantine period will now be taken in at Moscone West. Temporary residents there will each be given a partitioned space, said Trent Rhorer, director of the Human Services Agency.
April 6, 2:20 p.m. SF Police Chief Bill Scott on Monday confirmed two citations issued in San Francisco to two individuals. Both, he clarified, were to people who were not social distancing. A previously reported citation to a non-essential business was erroneous; in that instance, the business had been "warned, admonished" and then was subsequently closed.
Chief Scott also warned the public to be wary of targeted scams involving people claiming they are health care workers and asking to inspect homes or attempting to hand out masks.
"Those are not city workers, CDC workers, nor are those folks public health workers," he said. "If someone knocks at your door in a residential area, please don't open it, don't let them in. Do not accept a mask. Call 911."
April 6, 2:05 p.m. On Monday afternoon, Executive Director of the SFMTA Jeffrey Tumlin advised San Franciscans to avoid riding Muni buses whenever possible for the duration of the shelter-in-place in the city.
"As a lifelong advocate of transit and executive director of the SFMTA, I never thought I'd say this: Please, if you have any other option for getting around, please do not ride Muni," he said. "Muni is only for delivering essential workers to work and for allowing San Franciscans to access essential services."
Tumlin stated he anticipated the agency being forced to weather 30%-40% of drivers eventually not being able to show up for work. Ridership is down 80%, he continued, but is still at 100,000 passengers daily, resulting in crowding.
The SFMTA will need to further cut more bus lines beginning Tuesday, but Tumlin noted that San Franciscans would still all be within a mile of a functioning bus stop, and most would be within half a mile. Tumlin added that the SFMTA would be looking at taxi and paratransit subsidy options for those in the most impacted neighborhoods.
"The cuts are painful in every single neighborhood," he said. "If the response we've gotten from the public is any indication of success, we've made everyone equally unhappy. It's terribly painful for me to do this."
April 6, 1:50 p.m. The number of coronavirus cases at the Orinda Care Center nearly doubled over the weekend, from 27 to 50 cases reported Monday.
Of those, 25 are center residents and 22 are staffers. They are being separated from individuals not infected.
April 6, 1:40 p.m. San Francisco Director of Public Health Dr. Grant Colfax announced Monday at a press conference that San Francisco hospitals added an additional 253 ICU hospital beds to its existing 277 for a total of 530 — a 91% increase. Additionally, hospitals took their medical surgery bed count in the city from 1,055 to "just over 1,600" — a 52% increase.
"We accomplished this by opening previously closed units and repurposing areas normally used for other functions, such as outpatient surgery," he explained. "These extra beds will make a big difference. However, there is a plausible scenarios that a large surge could overwhelm these additional resources."
Colfax also noted that the city would be moving forward with reopening the California Pacific hospital campus to supplement its coronavirus response, noting that the total number of those beds are not reflected in the amount of new beds he previously reported.
"Every day we can prepare is a good day," he added.
Colfax also provided an update on the case totals at the Laguna Honda hospital, saying the center now counts 16 total cases: 12 staff members and 4 residents. Of those 12 staffers, nine were involved in patient care. The four new cases, he noted, came from the impacted unit, South Five. Two of those cases are workers involved in patient care, and two are residents.
To date, 290 individuals have been tested at Laguna Honda.
April 6, 1:20 p.m. On Monday afternoon, San Francisco Mayor London Breed announced the finalizing of its first contract with a hotel to provide rooms for local healthcare workers and first responders.
The hotel, which was not identified, provides the city with 383 rooms. Breed also noted that they anticipate a second contract by the end of the week that would add an additional 500 rooms for front line workers.
April 6, 12:30 p.m. California Gov. Gavin Newsom said in a Monday press conference that the state is preparing for the number of people infected with COVID-19 to peak in mid-May, creating a potential surge in patients.
The governor spoke from Sleep Train Arena, a shuttered indoor arena where the Sacramento Kings used to play, and said the site is one of many that has been transformed into an alternative care facility with extra beds for patients infected with the coronavirus.
Newsom has been working to add 50,000 hospital beds to the 75,000 that already exist.
As of Monday morning, 81,879 people signed up online for California's Health Corps, a program bringing retired or out-of-the-industry health care workers back to work and building up a reserve of people to help oversee these new sites and beds.
"It's a three-legged stool," Newsom said. "You need the place, you need the people and you need the protective gear to meet the surge."
April 6, 11 a.m. San Francisco reported Monday morning that 14 individuals with ties to Laguna Honda Hospital and Rehabilitation Center have tested positive for the coronavirus.
Of the confirmed cases, 11 are staff and three are residents.  Of staff, eight have worked in patient-care positions and three have not.
Owned and operated by the San Francisco Department of Public Health, Laguna Honda is a long-term care facility in the Forest Hill neighborhood.
April 6, 10:45 a.m. The Santa Clara Convention Center started treating COVID-19 patients over the weekend. The event center has been turned into a temporary hospital and the first two patients arrived over the weekend.
The so-called "field respite center" has been outfitted with beds and supplies delivered by the National Guard and can serve up to 250 people.
"Utilizing the Convention Center as a Field Respite Center backstops hospitals and other care providers preparing for a surge in COVID-19 cases,"  Dr. Jennifer Tong, the branch director for the Health Care Surge team within the Santa Clara County Emergency Operations Center, said in a statement. "This is another important tool that we now can use in our fight to stop the spread of COVID-19 and save lives."
April 6, 10:25 a.m. Oakland is opening a drive-thru testing site at the Henry J. Kaiser Convention Center at 10th Street for essential workers, Mayor Libby Schaaf said Monday.
People eligible for testing will include healthcare, grocery, food bank and homeless outreach workers.
San Francisco Mayor London Breed also announced the city is opening a new drive-thru testing site for frontline healthcare workers at Pier 30/32 on Monday. The site will be able to conduct up to 200 tests per day by week's end and provide results in 24 to 48 hours.
"There's a national shortage of testing supplies, but we're doing everything we can to ramp up capacity and prioritize those most in need," Breed said in a statement.
Testing will initially be prioritized for first responders and city health care workers with symptoms of COVID-19 who are currently quarantined and kept away from both work and their families.
April 6, 9:55 a.m. California is loaning 500 state-owned ventilators to other states such as New York, where hospitals are overwhelmed with COVID-19 patients.
"In times of crisis, it's more important than ever we are the UNITED States of America," California Gov. Gavin Newsom said in a statement. "I know, if the tables were turned, other states would be there for us."
Newsom said the state is continuing to prepare and secure equipment to "keep our fellow Californians healthy while standing with other states in their moments of need."
While most people with the coronavirus have only mild or moderate symptoms, it can cause more severe illness in some, including pneumonia — an infection that can cause the lungs to fill with fluid, making it difficult to breathe. That's where the ventilators come in.
These breathing machines are a critical need across the country. The Society of Critical Care Medicine estimates about 960,000 COVID-19 patients in the U.S. might need a ventilator. There are currently only about 200,000 machines available.
April 6, 9:40 a.m. San Francisco's Muni transportation agency is cutting its bus service to only 17 of the most-needed lines. The agency already eliminated underground trains and replaced them with buses. Read the full story.
April 6, 9 a.m. San Francisco reported its ninth death related to COVID-19 Monday morning. Details on the patient weren't released.
The county also announced 15 more cases, increasing the total to 583.
San Mateo County went from 555 cases on Sunday to 579 cases on Monday morning. The fatality total remains 13.
April 6, 7:27 a.m. Cases of COVID-19 climbed over the weekend with with Alameda, San Francisco and San Mateo counties all reporting more than 500 cases and Santa Clara more than 1,200. The nine-county Bay Area now has more than 3,600 cases and 89 deaths.
Alameda County went from 416 cases on Friday to 539 confirmed cases on Sunday. The county's death toll remains 12. Contra Costa County reported 79 new cases on Saturday and Sunday and one additional death. The county has 386 cases and six deaths.
San Francisco County saw an uptick from 497 cases on Friday to 568 on Sunday; the death count went from seven to eight.
San Mateo jumped from 486 cases on Friday to 555 on Sunday. The number of fatalities remains 13. Santa Clara County continues to have the most cases in the nine-county Bay Area and as of Sunday the infected patient total was 1,207 and deaths 39. COVID-19 fatalities in California crossed the 300 mark over the weekend. According to data from Johns Hopkins University, 350 people have died in the state after contracting the coronavirus as of Monday morning.
Marin County saw 10 new cases and one additional death over the weekend; the county has 141 cases and seven deaths. Sonoma County saw only seven more cases with a total of 107. One person has died in the county.
Napa and Solano counties didn't report increases in cases.
The database reports California has 15,158 confirmed cases of COVID-19. That puts the state behind New York (123,160), New Jersey (37,505) and Michigan (15,718). Louisiana trails California with 13,010 cases.
On Saturday, Los Angeles County reported 28 more coronavirus deaths, its biggest single-day increase yet.
Cumulative cases in the greater Bay Area (due to limited testing these numbers reflect only a small portion of likely cases):
ALAMEDA COUNTY: 557 confirmed cases, 13 deaths*
For more information on Alameda County cases, visit the public health department website.
*Number excludes infected patients in city of Berkeley, which has its own health department and 31 cases.
CONTRA COSTA COUNTY: 417 confirmed cases, 7 deaths
For more information on Contra Costa County cases, visit the public health department website.
LAKE COUNTY: 0 confirmed cases
For information on Lake County and coronavirus, visit the public health department website.
MARIN COUNTY: 143 confirmed cases, 9 deaths
Fore more information on Marin County cases, visit the public health department website.
MONTEREY COUNTY: 63 confirmed cases, 2 deaths
For more information on Monterey County cases, visit the public health department website.
NAPA COUNTY: 22 cases, 2 deaths
For more information on Napa County cases, visit the public health department website.
SAN BENITO COUNTY: 30 confirmed cases, 2 deaths
For more information on San Benito County cases, visit the public health department website.
SAN FRANCISCO COUNTY: 583 confirmed cases, 9 deaths
For more information on San Francisco County cases, visit the public health department website.
SAN MATEO COUNTY: 579 confirmed cases, 13 deaths
For more information on San Mateo County cases, visit the public health department website.
SANTA CLARA COUNTY: 1,224 confirmed cases, 42 deaths
Fore more information on Santa Clara County cases, visit the public health department website.
SANTA CRUZ COUNTY: 71 confirmed cases, 1 death
For more information on Santa Cruz County cases, visit the public health department website. 
SOLANO COUNTY: 88 confirmed cases, 1 death
For more information on Solano County cases, visit the public health department website.
SONOMA COUNTY: 115 confirmed cases, 1 death
For more information on Sonoma County cases, visit the public health department website.
In California, 348 coronavirus-related deaths have been reported, according to Johns Hopkins University.
The Associated Press contributed to this report.
MORE CORONAVIRUS COVERAGE:
Sign up for 'The Daily' newsletter for the latest on coronavirus here.