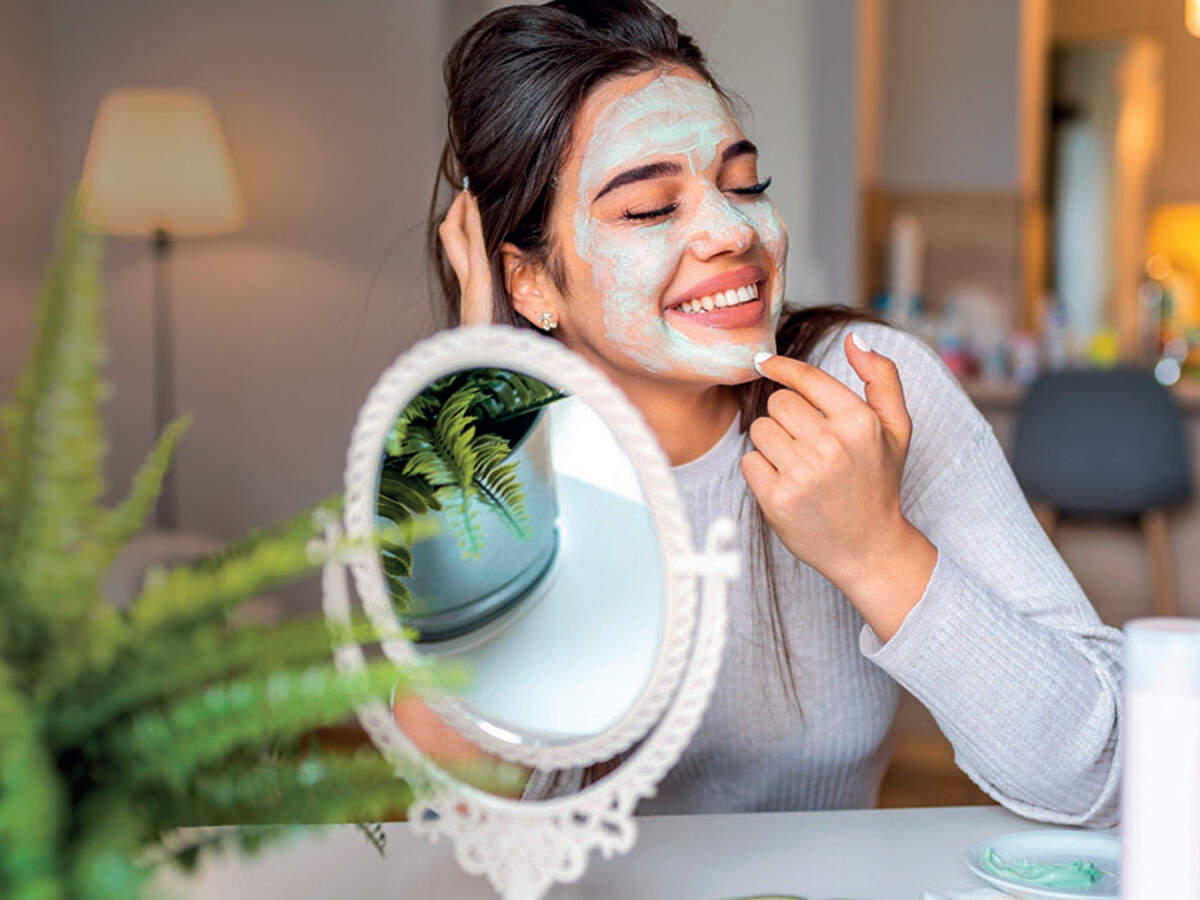 By Sneha Mahale

Overindulging in skincare products has led to an increase in complaints about acne, rashes and dryness
The pandemic has forced people to stay indoors, while some are utilising the extra time to brush up on their culinary skills and taking online courses, others have turned conscious about skincare routines and beauty regimens. This has led to a rise in skin-related problems. "We have seen an increase in the number of people coming in with problems such as acne, rashes, eczema, and dry and irritated skin. Overindulgence is one of the main reasons for this," says
Dr Rinky Kapoor, cosmetic dermatologist and dermato-surgeon, The Esthetic Clinics. "Many go overboard with skincare, and end up disturbing the skin's natural balance."
The main culprits are too much cleansing, over-exfoliating and frequent use of face masks. Even home remedies are to blame. Scrubs and packs made with coarsely ground pulses have led to acne and scars among users, and combinations of oils on the scalp have caused 'folliculitis' (breakouts) on the forehead, chest and back.
"A patient came to me, having used turmeric, garlic and apple cider vinegar and developed 'contact allergic dermatitis'; another used lemon juice mixed with baking soda to reduce skin darkening, and it led to burns around the eyes, mouth and underarms," says
Dr Vandana Punjabi, consultant dermatologist (skin and venereal diseases), Nanavati Super Speciality Hospital.
Clash of treatments


At the moment, traditional skin treatments like fruit facials, lemon honey masks and multani mitti are popular among those who are reluctant to visit salons. Some people have also started doing chemical peels and microneedling (using a dermaroller to generate new collagen and skin tissue) at home. "Without professional guidance, these treatments can be dangerous and cause burns and permanent damage," says
Dr Shraddha Deshpande, cosmetologist, consultant plastic and reconstructive surgeon, Wockhardt Hospital.
The skin needs balance too. Over-layering it with products can be as damaging as underuse. Skin allergies are a common symptom of overuse of products and a clash of treatments. When multiple products are mixed with each other in incorrect combinations, they tend to cancel each other's benefits.
"If a person is using an exfoliating face-wash with glycolic acid, mandelic acid, salicylic acid and retinol, they should avoid using scrubs, toners and serums containing these ingredients. It can irritate the skin," says Dr Punjabi. Similarly, don't use a water-based product on top of an oil-based product as it will not even reach the skin. Also, keep in mind that glycolic acid does not go well with sunscreen and exfoliating with multiple chemical combinations can cause pimples, sores and redness.
"People with dry skin or those with acne should not use fruit extract and juices, lime juice, potato, tomato in their skincare routine. Overuse of cream and milk can increase whiteheads and clog pores, and vinegar can damage sensitive skin," says Dr Kapoor.
Aren't home cures safe?


Even when using home remedies, you should first know your skin type, understand its requirement and then use ingredients accordingly. "Products like yoghurt, honey, oats, turmeric and milk are mild and generally safe to use in limited quantities. But potato, tomato and lime juice tend to dry and dehydrate the skin and make it more sensitive. Malai and oils on oily skin will clog the pores," says Dr Kapoor.
The golden rule is that if you are allergic to ingesting a product, it will not be good as an application either. Also, do not use any old, expired or uncovered ingredients on your skin. Make sure that you use a clean spoon and bowl to mix and prepare.
"Home remedies should be used with caution because no two people have identical skin, and what works for your friend or sister may not suit your skin. People with sensitive skin, or those with acne, eczema or rosacea, should avoid home remedies altogether as they can flare up the conditions," says Dr Punjabi.
Trying new products?


Start slow and let your skin acclimatise to the new products. Always do a patch test behind the ear or on the side of the neck. This is true for home remedies too. A patch test should be done at least a week before starting the treatment.
Stay away from comedogenic products (that clog pores) and anything containing sulphates, parabens and artificial fragrance.
"If you are unsure about your skin type, take professional help and identify which ingredients are suitable for you," says Dr Deshpande.
Reverse the damage


Spot the cause of the problem. Your dermatologist can help you identify the damaging ingredient and sug gest modifications in your skincare routine. Nowadays there are online video consultations available if your doctor is not easily accessible in person.
You could also simplify your skincare routine with fewer products. For example, use a hydrating mask once a week instead of layering the skin with emollients. Don't reach for oil-control products if your skin suddenly becomes oily. Always remove the product that is damaging the skin before adding something new.
"Skin is usually forgiving. In case of mild skin irritation due to constant use of products, just give it a break. Using a neutral face-wash and a gel-based moisturising cream along with a non-comedogenic sunscreen can allow it to recover. If the damage is severe, professional help should be sought at the earliest," says Dr Deshpande.
Common side effects of popular remedies


► Cocoa butter can clog up pores
► Glycerine does not replenish the lower layers of the skin and can cause moisture loss
► Exfoliating with raw sugar can cause burns
► Baking soda has high basic pH and can cause skin reactions
► Cooking-grade olive oil will damage the skin
► Aloe vera can cause skin rashes, irritation, burning sensation and redness, if not extracted properly
► Using acidic fruits and vegetables to lighten the skin leaves it sensitive to the sun