The GI Diet – About the Glycemic Index and GI Recipes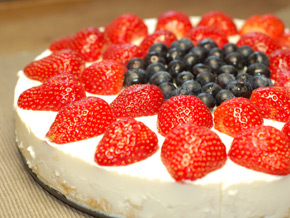 Featured Recipe
A high protein, low fat, low GI cheese cake that tastes great. I loved this recipe so much I ate it for breakfast too.
---
GI Diet News

Exclusive interview with Rick Gallop
The GI Diet Guide interviewed Rick Gallop about his personal health and life, the affect of emotions on eating and all things GI related.

Interview with dieting legend Rosemary Conley


The author of the Gi Jeans diet confesses she can't run.

Australian poll reveals GI diet confusion


Seven in ten know they should choose foods based on GI ratings, but many are unsure how.
 

About the GI Diet

Learn about the glycemic index and the benefits of the GI diet.

---

 

Glycemic Index of Foods

Learn which foods are best to eat to feel full and satisfied.

---

 

Low GI Recipes

Beautifully crafted low GI recipes with step by step photographs.

---

 

Hints on Living the GI Diet

Practical hints for low GI cooking and eating.